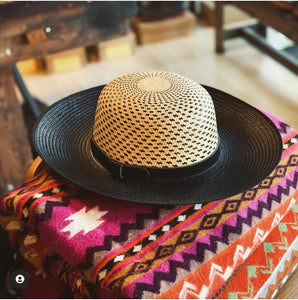 HATS - Handwoven Toquilla Straw - THE UTOPIAT - Black & Natural
Regular price $198.00 Sale
It is not just a hat, it is a tradition.
Our toquilla straw hats are one of the best sellers and one of the products that retailers love to carry. These hats are made of a Toquilla Palm tree steam and handwoven by artisans in Ecuador. The production of these hats can take weeks, or even months because of the amount of work it takes to weave the straw and to dry in open air at the fields. Our classic style is great for any type of outfits, elegant or casual. It is a very light weight hat and comfortable to wear. 
Note: All our hats are made with a readjustable interior band to be able to adjust your hat to a smaller size or a custom fit.
Materials:
Pure Toquilla Hat (No mix of paper or plastic).
Full-Grain Cow Leather Band
Cloth Edging on the Brim (It can be flatten by an iron or steamer if needed.)
Style: Cordobés
Size of Brim: It ranges from 6-7cm.
MADE IN ECUADOR