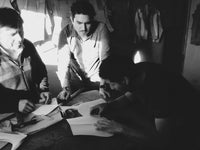 Always in the making!
Moo-chila began with an idea, to create a backpack built by artisans in Ecuador which would showcase their craftsmanship and provide new revenue streams for those artisans.
Over the years we have expanded as a lifestyle brand featuring many Ecuadorian artisan goods such as footwear, hats, leather accessories, blankets, and more.
Join us on our journey!
Shop Today
Location
VISIT US!
2600 1/2 Navigation Blvd. #B2
Houston, TX 77003
(Right in the middle of the Esplanade - BIG BLUE CONTAINER)
HOURS
SAT 12-8pm
SUN 10am-3pm