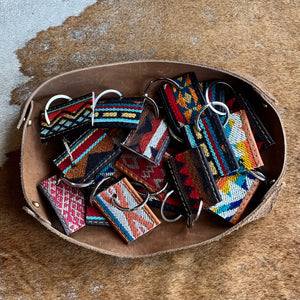 Artisan Key Chain
Our Artisan Key Chain are made right here in our Moo-chila Hat Store. We recycle left over pieces from our artisan belts and make this beautiful key chain as a little reminder of our colorful and native textile we use in most of our products. Get one and rock the Moo-chila brand everywhere you go!
Made and Distributed in Houston, TX.
Patch measurements: 1.5" x 2"
Materials: Cow Leather and Artisan Fabric
Note: These keychains are sold as Assorted Colors. We cannot select a color, but we are sure you will be happy with your purchase. No returns accepted, but you can always exchange it in person at our Moo-chila Hat store located in Houston, TX.